A New Horizon for SuperPower and Partners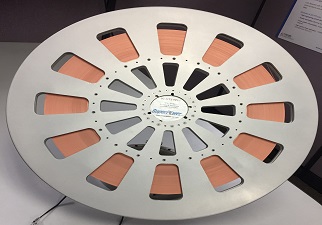 Many thanks to our Partner Bruker for this encouragement:
SuperPower Inc, a fully owned subsidiary of the Furukawa Electric Company Ltd, has opened a new state-of-the-art facility for the manufacture of Rare-Earth Barium Copper Oxide High Temperature Superconductor (HTS) tapes in Glenville, NY. With the opening of this new facility, Furukawa demonstrates its continued commitment to industries employing superconductivity as an enabling technology.
One application which profits significantly from superconductivity is Nuclear Magnetic Resonance (NMR), a widely used analytical technology. There has been a longstanding relationship between Furukawa and NMR technology leader Bruker.
"NMR enables tremendous progress in a great variety of scientific fields, ranging from structure elucidation in chemistry to structural biology. To give an example that has recently become very relevant, NMR is used to study the structure and dynamics of the SARS-CoV-2 virus," commented Dr. Rainer Kümmerle, who is leading Bruker's NMR application team.
"A strong, homogeneous and ultra-stable magnet is a key part of every NMR spectrometer. Stronger magnets lead to higher resolution and higher sensitivity of the NMR measurement," said Dr. Patrick Wikus, who is leading Bruker's Ultra-High Field (UHF) NMR magnet program. "With metallic, low temperature superconductors, NMR magnets are limited to a 1H resonance frequency of about 1.0 GHz. High-temperature superconductors have recently made the world's first 1.1 and 1.2 GHz NMR magnets feasible, after nearly a decade of magnet technology research and development."
SuperPower and Furukawa managed to open their new upgraded HTS facility on schedule, despite the many challenges due to the Corona crisis that struck earlier this year. Bruker and SuperPower have worked together with the local government, highlighting that the HTS tape manufactured at this new facility was a key component for UHF NMR machines, allowing SuperPower to continue development through the lockdown period.
Dr Toru Fukushima, CEO and President of SuperPower Inc., concluded: "Since the very beginning of Furukawa's journey into HTS technology, there has been a close collaboration with Bruker. Adoption of long-term business approaches have developed a mutual appreciation between the two companies, and we look forward to supplying HTS tapes to Bruker from our new and upgraded facility."
About Bruker Corporation
Bruker is enabling scientists to make breakthrough discoveries and develop new applications that improve the quality of human life. Bruker's high-performance scientific instruments and high-value analytical and diagnostic solutions enable scientists to explore life and materials at molecular, cellular and microscopic levels. In close cooperation with customers, Bruker is enabling innovation, improved productivity and customer success in life science molecular research, in applied and pharma applications, in microscopy and nanoanalysis, and in industrial applications, as well as in cell biology, preclinical imaging, clinical phenomics and proteomics research and clinical microbiology. For more information, please visit: www.bruker.com.